Train & Improve Your Children's Memory!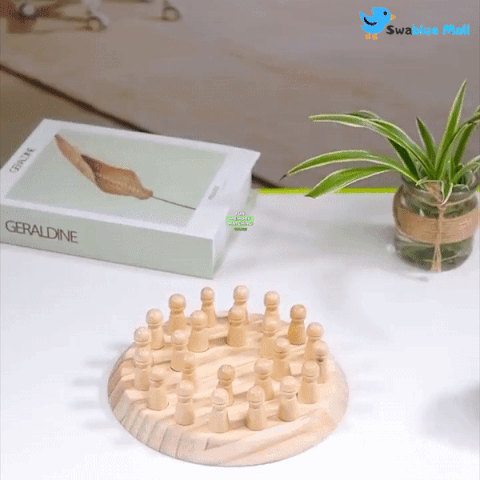 A toy is just what your kids want and an educational toy is what you wish to buy for your kids. For them, learning shouldn't be boring. 
Memory Game Chess allows your child to play while learning. It is a memory game that could improve your children's understanding and brainstorming. It helps with cognitive development, hand-eye coordination, and problem-solving skills making it fun.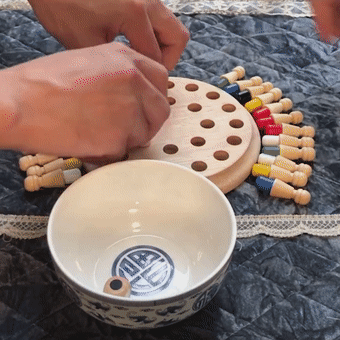 Studies state that increasing memory capacity will help to improve your kids' self-awareness, communication skills, social skills and also self-confidence. These improvements in concentration also aid future learning in them too.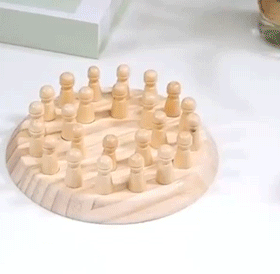 The objective of this fun board game for kids is simple. Roll the dice to reveal color, find a matching color pin on the board and collect as many pieces as possible (when playing with other children). 
FEATURES AND BENEFITS
SHARPENS BABY'S BRAIN: Memory Game Chess can help to improve a baby's three-dimensional imagination, color cognitive ability and stimulate the baby's curiosity at her or his early age.
COGNITIVE DEVELOPMENT: At a young age, the game can enhance your child's brain. It improves IQ, raises bonding with parents, and makes their brains accurate. It also prevents them to depend on gadgets.
STOPS GADGET DEPENDENCE: Spend Time with Kids, Adults, and Grandparents, STOP Kids from spending too much time on Phones and Pads.
FOR ALL AGES: The memory chess game keeps your brain snappy and active, this prevents memory decline and other relevant health issues. A game for all members of the family, grandparents, kids, and parents! 
SMOOTH WOOD MATERIAL: Made of

 

safe wooden material and non-toxic water paint, allow you to use with reassurance. With a painted smooth surface layer, it

 

does not hurt kids' hands easily.

 
HOW TO PLAY
Place all pawns randomly on the chessboard upside down.

Take a few seconds to memorize where the colors are placed on the chessboard.

Throw the dice and find out which color to look for.

Pick as many identical colored pawns as you can on the chessboard. If the chessman is with the same color on the top of the dice then keep the chessman. Who gets more chessmen at last who wins the game. 

OR you can set the winning standard to getting 4 same color chessmen or 6 different color chessmen. 



SPECIFICATIONS
Material: Top B

eech W

ood

, G

reen L

acquer

Plate Diameter: 18cm
Chess Width: 1.5cm; Chess Height: 4.3cm
Dice:2cm x 2cm x 2cm
PACKAGE INCLUDES
24 x Colored Sticks (in 6 Colors)
1 x Dice
1 x Gaming Board
ADD TO CART NOW for 50% OFF 
Please note that Shipping Time will take approximately 1-3 weeks.