DON'T WANT YOUR DOG COMING TO JUST ANY ROOM OF YOUR HOUSE?
This safety gate is the easiest and most convenient way to keep your dog from freely wandering around in the house.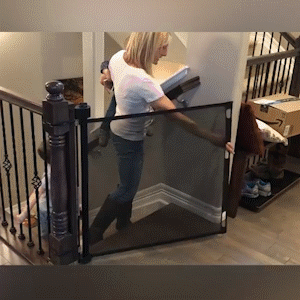 IT'S PERFECT FOR DOORWAYS, BETWEEN WALLS OR STAIRS
It can easily be moved from one place to another when needed, which is an ideal gift for your loved family and lovely pets.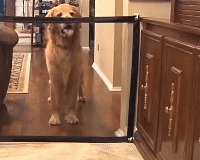 KEEP THE KIDS AT HOME OR IN A ROOM!
This durable child safety mesh net provides a safety play surroundings for children when they play in the corridor, balcony and patios, etc. Creat a safe surroundings to protect the kids,pets or toys safety.The child safety stairway net measures.
EASY CLEAN, EASY STORAGE
You can wipe it directly with towel and soap, or you can directly clean it. When you not need use it, you can fold it up and store it conveniently. Larger sizes for large gates, doors, garages and stairs to keep kids at home or in a room!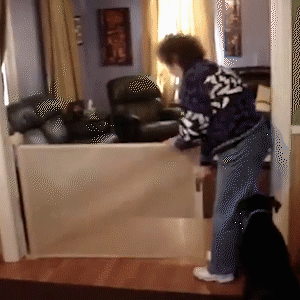 MADE OF NYLON MESH, TEAR RESISTANT, DURABLE
The Magic Pet Gate is built with tough, partially see-through fiber glass fabric woven to withstand abuse from pets, which designed to endure pets claws.
EASY INSTALLATION
No tools needed for installation.
Lightweight and portable.
Only need to stick the hooks on both sides of the door.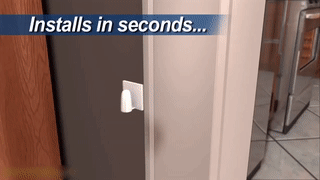 HOW TO USE
Unfold the fabric and s

tretch two metal posts for the maximum length.

Insert the 2 metal poles into the tunnels on both sides of the mesh fabric. 

Hook1 corner onto 1 sticky hook and adjust the position of the other three hooks then affix the sticky hooks.
Size

Small

:43.3(width) / 28.3(height) inches.

Size Large: 70.7(width) / 28.3(height) inches.
Color: Black.
Each set: Contains a woven fabric, two stretchable poles, and four sticky hooks.
CUSTOMER QUESTIONS & ANSWERS
1.
Question:
Will it hold against a large dog jumping on it, or running into it?
Answer: Our magic gate is of very good quality and can block the passage of big dogs. 
2. Question:
In order to walk through the gate how many hooks do you have to unhook, one at the top and one at the bottom? or just the one hook at the top

?
Answer: We have ours hooked on one side both top and bottom. The other side is just the top, so we unhook the top and swing open to walk in. Since it is wider than the door opening there is no temptation to even try to go in. I have also used Command hooks to save my walls and they hold it fine. 
3. Question: What if my door is narrower than 40 or 70 inches (100 or 180 cm)?
 Answer: In that case, we advise you to roll one of the sides of the product inwards to make the product shorter.